GROWING UP WILD

Exploring the intersection of isolation and globalization through the nostalgia of growing up in a rural environment at the end of the 20th century. For Jennifer Bisson, the result is a mix of memories, from the natural confrontations brought by life in the woods - lessons of death and birth, consumption and contribution, prey and predator - and the increasingly inescapable connections to the pop culture of a generation. With a balance of gravity and levity, wild naivety and superficial civility the series plays with the relationship between memory, identity and influence through a mosaic of images and text.

See photos from the vernissage by Dave Macartney.
Powered by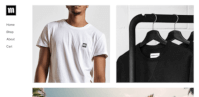 Create your own unique website with customizable templates.